A quartz system floor is one that incorporates combinations of coating resins and colored quartz pieces that are highly durable and have a high level of stability from UV rays over concrete flooring. The mixture is designed to ensure the proper build of a floor and to provide a boost to the floor's level of impact resistance.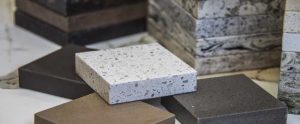 This flooring system utilizes a primer that is high-performance so that the substrate adhesion is secured and multiple quartz coats are added to provide a boost to the durability and performance of the quartz floor system. 
When Is a Quartz System Flooring Recommended?
A quartz system flooring is recommended in environments that are considered to be "high-traffic". Being that this type of system is mostly used due to the extreme durability and their overall aesthetic-based appeal, they are common in hospitals, schools, factories, and other types of businesses.
This type of flooring system may also be used in residential environments – be it apartments, duplexes, or single-family homes. Regardless of where the system is placed, you are sure to be absolutely thrilled with its superior quality and the numerous blends that may be achieved to create the finish that you desire. 
What Are the Main Benefits and Features of Quartz System Flooring?
Quartz system flooring offers numerous benefits. Of these, the following are those highlighted by home and business owners that utilize the flooring:
Quartz flooring is superior in terms of overall durability
These floors offer excellent levels of traction
Quartz flooring is resistant to abrasions, chemicals, and high impacts
It is an excellent flooring type for environments that have high levels of traffic
Quartz system flooring may be used on interior or exterior floors

 

Quartz flooring may be customized using different color blends and a wide assortment of finishes to meet the design-based requirements of the area where it is placed
Where Can Quartz Flooring be Placed?
Quartz flooring systems may be placed in numerous locations. These include the following:
Retail Stores
Multi-Family Housing Units
Industrial Structures
Hospitals
Stadium Concourses
Car Dealerships
Showrooms
Parking Garages
Salons
Restaurants
Schools
And, MORE!

 
Contact Us
We here at Concrete Coatings of the South specialize in numerous floor coatings. This includes Quartz system flooring. It does not matter what type of establishment that you have or even if you plan on having the flooring placed in your home, you will be thoroughly pleased with the superior quality and performance. We manufacture the most sustainable flooring coatings and place an emphasis on superior quality. 
Our flooring professionals specialize on both value and quality. We are highly committed to providing our clients with the best products. In addition to Quartz system flooring, we also specialize in concrete coatings, chip flooring, concrete repair, and more!
We specialize in commercial applications, basements, garages, industrial floors, and residential floors. To learn more about that which we offer and to get a quote on your project, we encourage you to contact us today. Simply call the following number: 706-249-4131