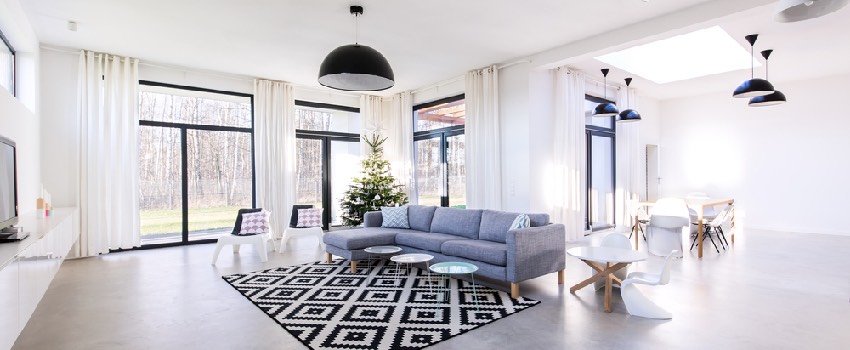 In the last few years, concrete floors have experienced a surge in popularity. These types of floors are highly durable, long-lasting, and environmentally-friendly.
If you have a concrete floor or are about to have one installed, you should ensure that you have the floor properly coated. This coating will enhance the appearance of the floor, increase its longevity, and add to its overall durability.
In this guide, we will outline the 4 most common types of concrete floor coatings available. The following outlines these types as well as a brief explanation of each:
Polyurethane – This is a relatively soft and flexible coating that is ideal for areas that get a lot of foot traffic. These coatings are often observed in hospitals, airports, and areas that are similar in nature. If you live in an area with excessive moisture levels, this type of coating is not advised as the moisture will result in bubbling and necessary treatments.
Acrylic – These types of concrete floor coatings are water-based. They are not exceptionally durable and do not reflect the shine common with other floor coatings. This type of coating is best for low-traffic areas. Re-applications and re-treatments are often required.
Polyaspartic – This type of coating is best for areas that get medium to heavy traffic. This is a durable coating that lasts a long time. If this type of coating is chosen, it is best to have the application placed by professionals. It is a solvent-based material that requires special equipment for application.
Epoxy – Epoxy is considered to be – by far – the most popular type of concrete floor coating. It is the hardest, the most durable, the most versatile, and offers the most features. It combines resin and a hardener that is composed of polyamine. As the application sets, it grows extremely hard. Once cured, this is the longest-lasting concrete floor coating available on the market. It is best for high impact areas and is a coating that is designed to be impact-resistant. This type of coating is used in commercial and residential applications. It is resistant to oils, solvents, and other types of chemicals. If you are in search of the best of the best, epoxy is it!
Contact Us Today
We here at Concrete Coatings of the South specialize in coatings for concrete floors. Our specialty is epoxy. Our primary focus is garage floors, but we specialize in other applications, too.
If you are ready to start a home improvement project that will lend to the structural integrity of your home and help increase the value of the home, a concrete coating is the way to go. We are licensed, insured, and always strive to give our clients the absolute best deals possible. 
When browsing through our website, you will quickly discover that you may obtain any color when it comes to concrete floor coatings.
In addition to this, you may have chips added to create a unique looking floor. To learn more or to set up a consultation, contact us today by calling: 706-249-4131