During the last several months, millions upon millions of people have had to make the switch from working in traditional brick and mortar workplaces to work-at-home environments.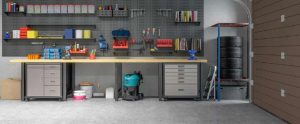 In addition to this, hundreds of thousands of children and teenagers have transitioned from schools to virtual learning environments.
This all stems from the COVID-19 pandemic that started to take hold of the United States in late January of 2020 when the first patient was diagnosed in the State of Washington. Since that time, millions have been struggling to make changes in their home to adapt to the new social distancing measures in an effort to curb the amount of infections.
The garage is an open space that can be easily transformed into this type of space. Continue reading to learn how to make your garage a highly productive work space.
Start With a Clean Out
If you are reading this, chances are, you have a garage that is loaded with miscellaneous items. Naturally, before any type of transformation may take place, you will need to clean out the garage. As you are cleaning, look for signs of moisture damage and leaks.
If you observe any cause for concern, it will need to be dealt with prior to converting the area into one where you – and possibly your school-aged children – will work.
Once everything is moved out of the garage, you should continue by cleaning the walls, floors, and even the ceiling, if it is needed. You should also take this time to perform some basic pest control for standard pests that are known to find their way into garages, like ants, spiders, silverfish, and termites.
Electrical Improvements and Insulation
If you are transforming a traditional garage into a workspace that may be utilized during the COVID-19 pandemic, chances are, the electricity is not set up for such an endeavor. Before advancing any further in the process, you should make the necessary electrical improvements.
It is best to hire an electrician for this. Remember, you need additional lighting and electrical outlets for those devices that you or your children will need to successfully work at home.
Once the proper electrical components have been installed, it is in your best interest to have the garage completely insulated.
Flooring
The next activity that you should indulge in is having your garage floor redone. Right now, you probably have a concrete floor that includes cracks and stains. To overcome this, simply have an epoxy flooring system put into place.
Not only are you able to choose from a variety of chip colors and paint colors, the epoxy will cover the stains and seal the cracks. The flooring is the one component that will really take your garage to the next level, so to speak.
Once the floor is all dry, you can start creating the home office of your dreams by adding furniture, electronics, and more! If you have reached the point where you are ready to start on your flooring, contact us here at Concrete Coatings today by calling: 706-249-4131