According to research, nearly everyone – including the 50 million people in the United States that have some type of disability – may enjoy the numerous benefits associated with aquatics. It does not matter if it is a psychological or physiological disability, measures may be taken and adjustments may be made to ensure that all people are capable of enjoying time at the pool.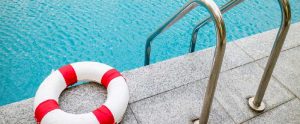 In this brief guide, we will outline a few steps that may be taken to ensure that your pool is accommodating and safe this summer.
Water Temperature
As with any physical exercise, the temperature of the body will slightly increase while being active in the pool. As a result of this fact, the water temperature in your pool should be between 83 degrees Fahrenheit and 86 degrees Fahrenheit.
For older adults, kids, and people that have been diagnosed with certain conditions, the water may be slightly warmer. If an individual has been diagnosed with certain types of physical conditions – such as multiple sclerosis – they may benefit from being in water that is slightly cooler.
All people who enter your pool should be encouraged to maintain activity to maintain their body heat as pauses in activity may result in the body cooling too quickly.
Accessible Entry Points
In most instances, pools have two points of entry. You may choose to integrate a standard ladder; however, these devices may not be suitable for individuals with certain disabilities.
You may want to integrate either a sloped entry way into the pool or install a pool lift that may be operated independently by the individual with a disability. If you choose a pool lift, it is important to pay special attention to the lifting capacity.
The higher the weight lifting capacity, the better. The goal is to make sure that the individual with the disability is able to safely enter and exit the pool without harming themselves or others.
Non-Slip Pool Deck
The pool deck is exposed to a tremendous amount of water. It is critical to ensure that the deck is non-slip to maximize safety for the individual with a disability. The best strategy for succeeding in this endeavor is to have a special coating placed on the pool deck.
Not only will this deck improve the aesthetic value of the area, it will provide a boost to the longevity of the pool investment. You may choose from many different colors, materials, and textures in order to improve both the appearance and the safety of the area.
If the individual utilizes mobility devices, ensure that the texture of the pool deck coating accommodates the device and it does not hinder their movements.
We Can Help
We here at Concrete Coatings of the South know and understand just how important a pool is for those suffering from disabilities. A pool offers a cool, refreshing means to exercise and engage in physical activities that are highly beneficial to the body.
We can assist in ensuring the safety of the pool by integrating a beautiful, luxurious pool deck coating to the area. For more information on the deck coatings that we offer or to set up an appointment, call us today at: 706-249-4131