Spring is quickly approaching. The temperatures are rising ever so slightly and the days are becoming a tad bit longer. In many areas, the snow has stopped falling and is quickly melting away.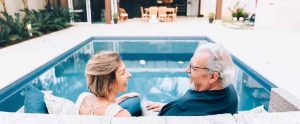 As a result, more and more people are going outside and enjoying the fresh, crisp air that is emerging. If you have an outdoor living area, chances are, you have already circled around an outdoor fire, had a cookout, or even hosted a social event in the great outdoors.
If you have a swimming pool, it is quite likely that your outdoor recreation area is placed around or near the structure. Why not breathe new life into the area by integrating a uniquely-designed pool patio?
The Pool Patio is the Outdoor Focal Point of Your Home
The pool patio is the area that surrounds your swimming pool. It is the area for your lounge chairs, your outdoor dining or picnic table or tables, and – in short – where all of the outdoor action takes place.
When it comes to your outdoor living area, the pool patio is actually considered to be the focal point of your home. This patio creates the look and enhances the style of your swimming area. It sets the tone for the recreational environment of your home.
By integrating a pool patio, you are establishing a design scheme that will reflect positively on your landscape and living area for many years to come.
The Most Affordable and Versatile Material
When creating a pool patio, the first consideration that must be made is the type of material that you will place as the base of the structure. You must ensure that the material that you choose is affordable, heat-resistant, easy to maneuver on, slip-resistant, and highly versatile.
While it is true that you may choose from stone, wood, blocks, and other types of materials, we recommend concrete. Concrete may be finished with a broom, stamped, and covered with a vast array of beautifully-designed concrete coatings. Regardless of your design scheme or color integrations, concrete is an absolute must when it comes to a pool patio.
Safety and Durability
The next two considerations that must be taken into account when creating a pool patio are the safety and durability of the materials used and the area, in general. This is an outdoor space that will be constantly exposed to water, heat, and activities.
You want to make certain that when people use the pool patio that they are safe and are not slipping all over the place. You also want to make sure that your investment is properly protected from the elements.
Regardless of what materials are used to create your pool patio, it is essential that you protect them with finishes that are slip-resistant and thoroughly cover all building materials
Conclusion
When creating a pool patio, you should opt for a premium floor system and associated finishes that are designed for aesthetic appeal, safety, and durability.
We here at Concrete Coatings of the South offer many types of textures, colors, and designs when it comes to pool patios.
If you are reading to create a gorgeous outdoor living area around your swimming pool, contact us today to learn about all of the options we currently offer in terms of pool patios: 706-249-4131