Epoxy floor coating is a perfect option for homeowners that want to strengthen and beautify their garage. It is stylish and safe. It is considered to be safe for your health and your garage floor. It helps protect the garage floor from water spills, chemical spills and leaks, extremely harsh outdoor conditions, pollution, and other types of damage.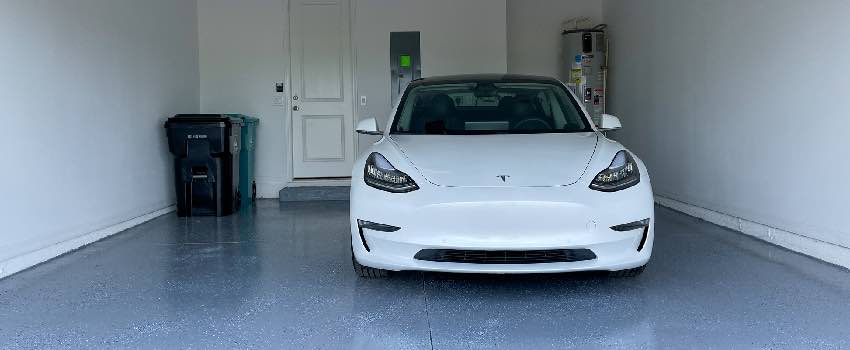 Additionally, it helps to increase the traction of the floor. If you want to add epoxy floor coating to your garage, you are taking a highly advantageous step!
What Is the Floor Coating Made Of?
Epoxy floor coatings for garages are composed of epoxy resins and various types of hardeners. The resin is composed of prepolymers as well as polymers. The hardeners are designed to chemically react to the resin in order to solidify or harden the resin once it is put into place.
These substances often are composed of polyamide, amidoamine, and anhydride chemicals. The area will need a bit of warmth to appropriately set. Once completely cured, it will be able to successfully withstand harsh temperatures – from below freezing up to over the 100s.
The true dangers only exist with homeowners that elect to lay the coating themselves. To avoid any dangers from touching the substance or inhaling it, you should seek the assistance of a professional.
Is Epoxy Floor Coating Toxic?
The epoxy floor coating that will be placed on your garage floor is considered to be non-toxic. If you lay the floor coating yourself, exposure could result in skin reactions and reactions of the respiratory system.
To avoid these potential dangers, you should simply have a professional do the work. Then, once they are finished, be sure to follow any precautionary measures that they provide you.
Will the Floor Coating Stand Up to Harsh Conditions Often Present in the Garage?
Yes, garage floor epoxy floor coatings are capable of withstanding all of the harsh conditions that may occur in your garage. These include excessive heat from a warm car that is pulled into the structure, chemical spills, water exposure, and harsh environmental conditions.
If you opt for professional floor coatings, you will likely receive a guarantee from the company that you pay to do the work. This helps to protect your investment.
Contact Us Today
If you are in the market for garage epoxy floor coatings, we here at Concrete Coatings of the South recommend that you contact us today. We offer a variety of floor coating types, colors, and styles. You may choose from quartz flooring and colored chip integration, too!
Our garage floor coating system is highly resistant, extremely safe, and includes numerous options to meet your expectations in terms of design, appearance, and appeal. Our company has been serving customers since the year of 1991.
We specialize in residential, commercial, and industrial applications. We are backed by solid positive reviews. If you would like to learn more or would like to set up an appointment, you may contact us now by calling: 706-249-4131