In today's world, the kitchen area is often considered to be the "heart" of a home. Most consider this room to hold the highest importance out of all rooms due to the fact that it is often the area that is the center of a multitude of activities.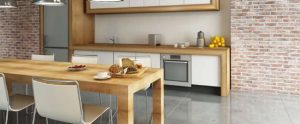 Examples being meal preparation, eating meals with the family, and socializing. It is an area that is known for bonding. It brings the home together and it brings loved ones together. So it only makes sense that you would place a special emphasis on improving not only the functionality of this room, but the appearance, too!
Utilizing a metallic floor coating will help you achieve success in this endeavor. Additionally, it will help to increase the overall value of your home. Continue reading to learn more.
What is a Metallic Floor Coating System?
Before delving any further into this topic, we feel it is important to first outline the basics associated with a metallic floor coating system.
In short, this is an epoxy-based flooring system that uses a primer of pre-tinted epoxy, a basecoat that integrates a low viscosity metallic epoxy, and a topcoat that utilizes a urethane that is either water based or solvent based.
Metallic-colored, glitter-like special pigments are combined with an epoxy resin and poured directly on the floor or a substrate in order to create a highly distinguished and highly aesthetic floor.
The Benefits
Now that you understand what a metallic floor coating system is, it is time to learn why it is beneficial to use such a system in the kitchen:
The kitchen is an area that is subjected to an immense amount of traffic and a wide variety of substances due to the meal preparation and cooking that occurs in the area. The flooring must be highly resistant and easy to clean. The epoxy resin in metallic floor coatings is able to withstand all of the traffic and the exposure to ingredients, oils, and other food and beverage products that may find their way onto the floor. When something spills, clean up is very easy. Additionally, staining will not occur.
There are two elements that are commonly see, experienced, and occur within the kitchen. The first is moisture and the second is heat. Metallic floor coating systems are resistant to both. When an epoxy flooring is put into place, it will not be subjected to damage if exposed to the natural moisture levels and heat levels that are known to occur in kitchens. You will find that these elements do not result in cracks, splits, or other types of damage. It is a highly durable floor that is considered to be ideal for the kitchen.
Since mentioning spills, moisture, and heat, we move on to the next advantage of integrating a metallic floor coating system into the kitchen – that is safety. It is not at all uncommon for people to slip, fall, or experience other types of injuries within the kitchen. An epoxy resin flooring system creates a sturdy and safe walk environment. Additionally, the epoxy will reflect light that is within the room so that visibility is greatly enhanced for those that use the room. Furthermore, it is a substance that is resistant to accidental slips.
Improve Your Kitchen and Home Today
If you are ready to transition that dull kitchen into a bright, beautiful, and safe area while increasing the overall value of your home, we here at Concrete Coatings of the South can help you!
We have a multitude of features and options available for those that have a desire to integrate a metallic floor coating system into their home.
If you would like more information or would like to discuss what options are at your disposal, you may contact us directly today by calling: 706-249-4131