If you are reading this, it is quite likely that you own a salon that has experienced a vast amount of difficulties throughout the year of 2020. Most of these based on the fact that COVID-19 made its way to the United States and eventually was named a "pandemic".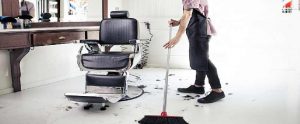 As a result, many businesses that were considered to be "non-essential" were forced to close its doors. Even after reopening, many salons found that they were limited by a vast number of restrictions pertaining to the wearing of masks and social distancing.
While these are all understandable precautions, many work-arounds have now been found for these issues. The only issue now is, the winter months are coming. The last thing you want is to face floor damage or safety issues because of the environmental hazards associated with the winter.
Here, we will offer a few steps on preparing your salon floor so that it is ready for those hazards and is completely safe for all who use it.
Gather Up Salt
You need to stock up on salt so that when all the icy precipitation occurs, you are ready. Salt will help you keep all of the exterior areas of your salon safe by melting ice. If you wait until the first snow, you are likely to discover that salt supplies are diminished in stores.
By buying and preparing early, you can have a little peace of mind. Be sure not to over-apply as this could result in chemicals being tracked onto your salon floor; however, in the grand scheme of things, that is better than having someone come in with a shoe full of snow and slip on your salon floor.
The next step will help in protecting your floor from the potential harsh chemicals in the ice melt products and will also ensure optimal traction in wet environments.
Concrete Salon Floor Coating
To properly prepare your floor for the upcoming winter and to provide a boost to the general safety of your establishment, you should have salon floor coating placed. This coating will seal in any damage to the underlying floor and will also help to protect your floor from the elements.
As mentioned before, it is also a great way to increase the traction on your floor so that people do not slip and fall as easily when exposed to all that winter precipitation. You can actually choose from various chip colors and designs when opting for salon floor coatings, which means you can also completely change the look of your salon.
Clean and Disinfect
Once your salon floor coating is in place, you will need to keep up on the cleaning and disinfecting process. Not only will this help in removing excess moisture from your floor from the outdoor weather, but the disinfecting process will also aid in keeping the germs down in your facility.
We don't only have to worry about COVID-19. It is also flu season and there are many types of bacterial infections spreading!
If you need a little help this year in getting your salon floor winterized, you may contact us today by calling: 706-249-4131