In recent years, there has been a growing trend among homeowners to integrate decorative floor coatings throughout their living space, basement region, and even the garage floor. While there are many contractors and companies that specialize in this service, you must find one that has the experience to back their work, the knowledge of all aspects of the business, and those that are trustworthy.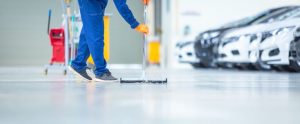 Floor coating solutions are an important investment; therefore, it is advised that you perform some research prior to committing with a company. In this guide, we will provide a few basic steps on discovering the perfect company for your home improvement needs. 
What Makes a Floor Coating Company Trustworthy?
Trustworthy flooring specialists will take the time to explain the entire process so that you understand the steps that will be taken and why. These professionals will explain the materials that will be utilized during the floor coating process, the quality of said materials, and the costs associated with the project.
You will learn the process surrounding application – all the way from preparing the surface to the time that it takes for the coating to cure. You will also receive comprehensive information on the after care that is required and the maintenance that will be required to increase the longevity of the materials used. 
Licensed and Insured 
The company that you choose to have do your floor coating system should be both licensed and insured. In most instances, they will have a policy that is referred to as "General Liability". This provides protection for them and for you. Additionally, it provides coverage for property damage, any type of accident that occurs, and bodily injury.
The company may also carry additional policies that pertain to the equipment that they use and the installation process. You should request proof of both the license and the insurance. If you have any questions, you may direct them to the insurance provider. 
References and Reviews 
To determine how trustworthy a floor coating system company is, you should ask for references and look up reviews. This will provide you with a unique view of how the company handles business and the customer service that they provide. It is important to understand that not all reviews may be complimentary in nature.
You must weigh the positive reviews against the negative reviews and pay close attention to how the company reacted to each. You should rate a company high in trustworthiness if they are responsive, proactive, and acknowledge constructive comments. 
Contact Us Today 
We here at Concrete Coatings of the South have been servicing the Central Savannah River region since the year of 1991. We specialize in urethanes, polyureas, and polyaspartics floor coating systems. We have a direct partnership with Penntek.
This is a floor supplier that specializes in industry-leading and award-winning products and allows us to offer a vast variety of concrete floor coating solutions. In addition to having the best products, we also offer a 15-year warranty. To learn more, contact us today by calling: 706-249-4131