If you have a hardwood or engineered wood floor, it is essential to protect it with a high-quality finish. One of the best finishes is polyurethane. Not only does this particular finish go on quickly, it is very easy to apply and cures in a rapid manner.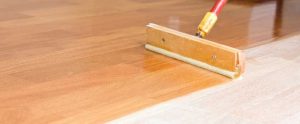 The substance provides protection from moisture and exceptionally long-lasting protection for your wood floor. Additionally, it enhances the beauty, appeal, and value of your home. In this brief guide, you will learn how to properly apply polyurethane to the floors within your home.
What Is Polyurethane?
Polyurethane is a special type of liquid-based resin that is utilized to provide a protective coating to wood surfaces. Examples include flooring, furniture pieces, and cabinetry. It is available in a water-based version and an oil-based version.
The actual finish is transparent. Various sheens – such as "glossy" and "flat" – are available. The substance is known for resisting mildew, mold, and fungus. This material is quite effective at resisting all types of scratches and scuffs.
Applying the Polyurethan
The following steps should be done to apply polyurethane to your wood floors:
First, sand the floor and completely remove any pre-existing finish. Make sure the floor is completely smooth.
Vacuum up all of the debris that was created from the sanding process.
Tape up walls, baseboards, and trim with painter's tape.
Stir the polyurethane and then do the corners and the edges of the room.
Pour the substance into a paint tray and use a brush to get it and pour it over the floor. Do not use cotton or any type of brush that will leave behind lint on the flooring.
Allow to completely dry.
Re-sand the floor once the first coat is completely dry.
Recoat the entire surface of the floor.
Assistance
Many people are not comfortable working with polyurethane. There are some that are uneasy about dealing with such a sensitive material on the floors of the home. Others do not have the time or experience. Then, there are those that may have a sensitivity to the polyurethane.
There is no need to worry. We here at Concrete Coatings of the South can assist you. In addition to standard polyurethane coatings, we also specialize in chip floor coating systems, quartz floor coating systems, and others.
Our services are designed for garages, homes, businesses, and even industrial settings. We believe that our clients should have the best services, features, and choices when it comes to their homes and businesses. Our floor coatings will instantly increase the overall durability of your floors and enhance the beauty of your home.
We work efficiently and make certain that our performance is top notch. Our prices are highly competitive and the options we offer to homeowners are vast. If you want to improve the appearance of your home and protect your floors, simply contact us today for assistance by calling the following: 706-249-4131