If you are reading this, chances are, you have found yourself staring upon a crack within a concrete slab, wall, or patio as of late. It is typical for most to believe that cracks occur as a direct result of faulty materials or installation; however, this is not always true.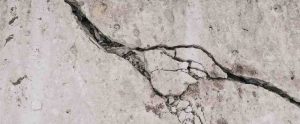 Cracks are an inevitable consequence of concrete. Regardless of time, effort, materials, or reputation, there is always some level of cracking when it comes to concrete work. While it may not happen immediately, it is bound to happen.
One of the most effective methods of preventing such an occurrence – when it comes to concrete flooring – is to opt for specially-designed concrete floor coatings that will protect the concrete for years to come. More on that later; first, let's review common concrete cracks that could result in the biggest problems.
The Plastic Shrinkage Cracks
Once concrete is poured and still in the state prior to hardening, it is loaded with water. Eventually, that water will leave the slab. When this occurs, it is possible that large voids develop. Over time, these voids – which are, by all accounts, empty spaces – start to weaken and cracks will occur.
In most instances, these cracks occur in corners or with the placement of items such as drains and other types of plumbing fixtures. While very visible and narrow, these cracks occur all the way through the slab.
Overload Cracks
Despite being considered a very strong building material, concrete does have its own set of limits. In some instances, too much weight may be placed on the concrete and overload cracks may develop.
This could occur more frequently in driveways and areas that are prone to flooding, large amounts of rain, and excessive snow fall. These have the capability of doing the largest amount of damage and results in the highest costs.
Expansion Cracks
Heat results in the expansion of concrete. If this happens and the concrete pushes up against another structure that is not flexible – like a wall or foundation – a large crack may develop. In most instances, areas that have high levels of heat will have an expansion joint installed.
This usually is placed in the midst of a flexible material – such as rubber. Unfortunately, the specialized joint may not always be placed and damage not only occurs with the concrete, but can also occur to surrounding areas.
How to Avoid Concrete Cracks
Here, you have been introduced to the three most common types of concrete cracks. There are other types that may occur, as well. While cracking is an inevitable fate associated with concrete, it is possible to prevent cracks from occurring.
This is made possible through the integration of specialized coating systems for concrete floors. The materials used in these coating systems help to properly distribute temperatures, weight, and moisture.
We here at Concrete Coatings of the South specialize in concrete coatings in Augusta that will help in protecting your investment. For more information, contact us today by calling: 706-249-4131