When shopping for flooring, very few people consider the effects of it on their general well-being and overall health. Factors such as appearance, cost, and level of maintenance are typically at the forefront of the selection.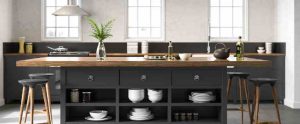 What if we told you that choosing the right type of floor could actually improve your health, provide a boost to your mood, and even reduce your exposure to potentially dangerous materials and/or toxins? It is true!
The good news is, concrete flooring complete with a beautiful floor coating system can change your health – for the better! Continue reading to learn about the advantages of integrating this type of flooring into your home.
Boost the Indoor Air Quality of Your Home
Most homes integrate wood, carpet, or other types of floors that provide an ideal breeding ground for mold, mildew, and other dangerous substances. These substances result in a high level of toxicity to the air quality.
Individuals subjected to these materials may find that they experience frequent headaches, disorders of the immune systems, increased respiratory infections, and even breathing problems. To avoid this, simply integrate a concrete floor with a high-quality coating system.
The surface of these types of floors do not support any type of microorganism growth – which means cleaner, healthier air!
Eliminate Indoor Allergens
Did you know that many types of flooring systems harbor allergens? For example, carpet is a material that provides a safe haven for dust mites, an area where pollen gathers, and pet hair/dander accumulates. Despite your best efforts, it simply is not possible to ensure that carpet is completely clean.
The more allergens that accumulate in your home, the more your health will suffer. Your eyes may become irritated, your nasal cavity may become full, you may start to sneeze and cough, and even experience problems in breathing. These situations may be avoided by opting for concrete flooring with a floor sealant. These types of floors do not trap any type of allergen and they are extremely easy to clean. Yes, it is possible to thoroughly clean these types of floors!
No Synthetic Chemical Dangers
Many types of flooring contain synthetic chemicals. Carpeting has the ability to emit highly volatile compounds. Adhesives contain dangerous substances. Manufacturing processes leave behind dangerous residuals.
Concrete floors that are covered with specially-designed coatings are not toxic. Installation and maintenance does not result in any type of toxic material being emitted.
The Safe, Healthy Alternative
Concrete flooring with high-quality coatings are the safe and healthy alternative. Not only are these floors beautiful and extremely durable, they will keep you, your loved ones, and your pets completely safe.
You will have a cleaner home, a healthier home. In turn, you will have a happier home. There are many magnificent selections of flooring available to today's homeowner.
If you are interested in transitioning the appearance of your home, boosting the health of your home, and ensuring that everyone in your home is at their best – health wish – contact us today to learn about concrete coatings in Augusta: 706-249-4131