In recent years, the design of senior care facilities has undergone an intense transformation. Long gone are the days where these facilities simply focus on housing those in years and offering accommodations for their unique health challenges.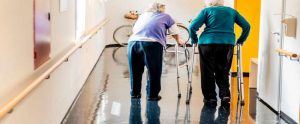 Now, communities are taking design measures that reflect the lifestyles of those that they provide care. Spaces are becoming more versatile. Areas have higher levels of durability, and integrate features that optimize safety.
If you own or operate a residential care facility, it is imperative that you understand that optimal design initiates with the flooring of the facility. Today, chip floor coating systems are considered to be the most popular floor design in facilities across the nation.
A Special Floor Coating for Special Needs
When it comes to safe, beautiful flooring for the elderly, the chip floor coating system is an ideal option. First, it offers a high level of versatility when it comes to aesthetics. Secondly, it is incredibly simple to retrofit the existing space without burdening the staff or residents of such facilities.
This type of flooring allows facilities to define spaces for social distancing and to coordinate the color scheme of the facility. This type of flooring is a multi-layer build, that includes three sections – the basecoat, the chip flakes, and the top coat.
Not only does this multi-layer build lend to the durability of the flooring, it is safer for seniors as it includes an anti-slip property. This specially-designed flooring system is ideal for use in facilities for people with special needs.
The Advantages
A chip floor coating system offers many advantages to residential care facilities. These include the following:
It includes a special material called "polyurea". This material is exceptionally strong. Additionally, it is resistant to scratches, various chemicals, and even damage from the sun's rays. Once in place, the flooring retains its beauty and appeal for many, many years to come.
The vinyl chips that are utilized in the flooring system are textured. Not only does this help in adding an extra grip to the entire surface of the floor, it has a high level of slip-resistance; therefore, preventing falls from occurring.
The flooring is covered by a lifetime warranty.
Start Your Project Today
Now is the perfect time to integrate a chip floor coating system in your residential care facility. We here at Concrete Coatings of the South will conduct a free estimate by visiting your site once scheduled.
You may visit our website or contact us today to set up the appointment. We are licensed and insured. You are sure to love our craftsmanship and the quality of the materials that we utilize. We provide references upon request.
In addition to chip floor coating systems, we also do patio coatings, basements, concrete repair, and more! If you have a flooring issue, we have a resolution! Simply call us today and we will help identify your needs and set up the project: 706-249-4131